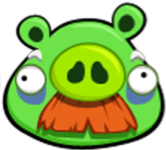 hairy pig
The Mustache pig is one of the more stronger pigs of the species. He always has a mustache and is destroyed easliy.
In
Go Green, Get Lucky
the Mustache pig is wearing a fake red beard and a leprauchen hat. On the hat there is a four leave clover.

In Hogs and Kisses the Mustache Pig is sometimes seen with angel wings and a bow and arrow.